Email
EVERY CHILD COUNTS...EVERY STUDENT MATTERS
PLEASE CONTACT rollie@everychildcounts.ca
Phone
HP 902-864-5079
CP 902-229-3111
Mail
EVERY CHILD COUNTS...EVERY STUDENT MATTERS
12 NAPPAN DR.
SACKVILLE, NOVA SCOTIA,
CANADA B4C 2E2
Website

www.everychildcounts.ca
SEPTEMBER 2011 BROCHURE & POSTER TO HELP RAISE FUNDS FOR CHILDREN EXPERIENCING A FAMINE CRISIS IN SOMALIA-KENYA. PLEASE POST A COPY IN YOUR WORKPLACE!!! WE APPRECIATE RECEIVING EVERY SINGLE PENNY THAT WE CAN OFFER THEM. WE INVITE YOU TO JOIN OUR EFFORTS..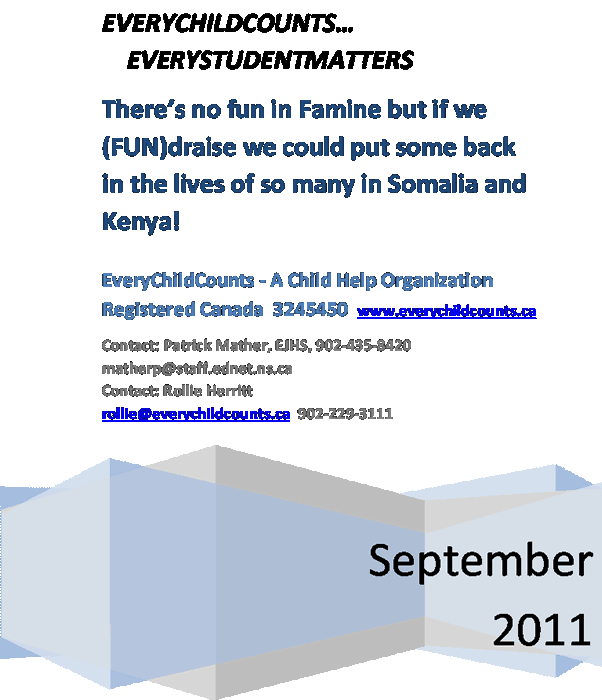 HELPING CHILDREN
IN SOMALIA-KENYA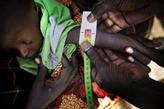 COUNTING ON EVERY
TEACHER
ADMINISTRATOR
NSTU PERSONNEL
SCHOOL BOARD MEMBER
DEPT OF ED MEMBER
IN NOVA SCOTIA
TO SHARE A SINGLE LOONIE…
AND EVERY STUDENT IN NOVA SCOTIA TO SHARE JUST A QUARTER BY SEPTEMBER 16 (OR LATER IF NECESSARY)
AND TOGETHER WE CAN SAVE THOUSANDS
OF CHILDREN IN SOMALIA-KENYA
We call it the QUARTOONIE CHALLENGE…

Classroom Target:
Each classroom teacher multiply number of students x one quarter ($0.25) plus a loonie ($1.00) from the teacher = goal for that classroom
Eg. 28 students x $0.25 = $7.00 + $1.00 (teacher) = $8.00

More would be a bonus!!!!

A simple jar/container/bottle labeled Somalia-Kenya in the classroom would be placed for deposit and our goal (amount) by Sept. 16

Other Location Target:
Each member of staff at a building x one loonie ($1.00)
Eg. 30 staff x $1.00 = $30.00
Again…above and beyond is a worthwhile bonus.
EveryChildCounts…EveryStudentMatters will kick off this special initiative by making a $1000 contribution to the children of Somalia-Kenya.

All fundraising amounts may be sent to
EveryChildCounts
12 Nappan Dr.
Halifax, NS, Canada
B4C 2E2
902-229-3111

Or: EveryChildCounts
Attn: Patrick Mather
88 Belle Vista Dr.,
Dartmouth, NS B2W 2X7
902-435-8420

All schools participating will receive an acknowledgement of appreciation for such a fundraising effort. It will be sent to staff and students as well as posted on the website of www.everychildcounts.ca
All funds raised through this initiative will be directed to the following major charities as endorsed by the Federal Government of Canada:
. WFP (World Food Program) . World Vision Canada
. The Humanitarian Coalition . Canadian Red Cross
. Doctors Without Borders . UNICEF Canada

Any inquiries may be directed to:
Rollie Herritt, ECC…ESM 902-229-3111
Patrick Mather, ECC…ESM 902-435-8420